All staff are very professional and hard working. We had several issues arise and Gluff plumbing addressed each one staying late to fix them. They went above and beyond what was expected. I would highly recommend them for any plumbing job.
We never hesitate to call Caleb at Gluff Plumbing for any plumbing issue we are having. He explains the problem and solutions in a very easy to understand way. We got to meet Matt today and he did not disappoint! He was professional, courteous and did a great job! Thank you to Norm as well for saving the day with a part. They are a great local business and we highly recommend using them for any plumbing project, big or small.
I had a large project, and I met with Caleb to discuss and plan the project. I met with many plumbers, and his knowledge and price was much better than the other guys. If you are looking for a plumber that will do great work and be responsive and honest, definitely go with these guys!
What a relief to find a reliable, professional plumbing company that's located close by. Affordable, and courteous.
Matthew took care of us this week and last regarding an old water heater. He was positive and professional every step of the way! Matthew was a great representative of the company and left us as happy customers. Thank you, Matthew!
We had an issue and Gluff plumbing took care of us right away. Friendly, honest, affordable, and just all around great guys! These guys really go above and beyond to take care of their customers. We have found our plumber for life! Thank you for such wonderful service!!
Excellent service! Our plumber Matthew was professional, knowledgeable and did a great job. I would highly recommend Matthew and Gluff plumbing. We will call them again for our next plumbing fix.
Terrific service, knowledgeable technicians who will fix the issue correctly, promptly and for the best price. Also the receptionist/dispatcher Alisha is amazing at her job! She's helpful, efficient and knowledgeable about the work the techs in the field are doing. Highly recommend this company!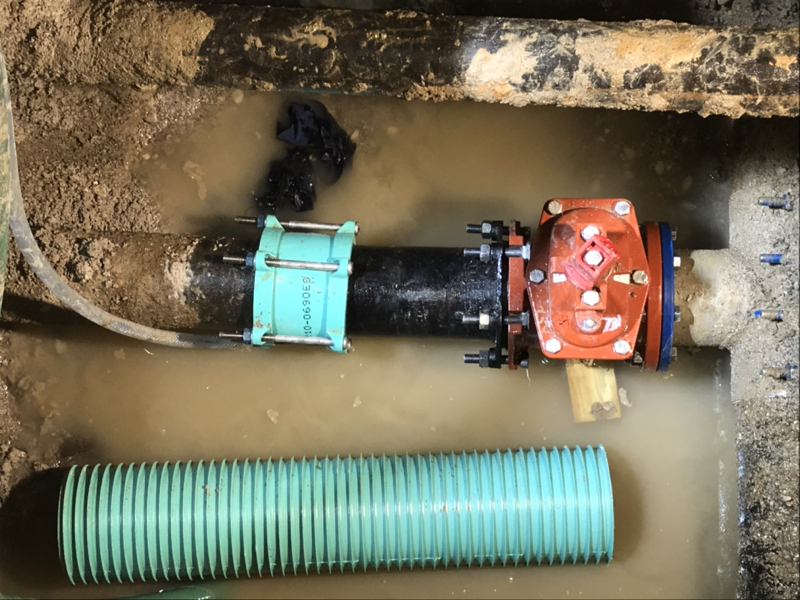 Sewer/Water Main Repair & Replacement in Monrovia, Martinsville, Mooresville, Bloomington, Camby, Eminence, Indianapolis or surrounding area.
Issues with your sewer line or water main can quickly complicate the rest of your plumbing system. But it's often difficult to realize where the problem lies. This is why we recommend contacting Gluff Plumbing to diagnose your sewer or water main . We will let you know what's causing trouble in your line and provide you with the best solution.
Signs You Have a Sewer Line Problem
Leaking or damaged sewer lines are more likely to develop in older homes or buildings. These properties may have outdated sewer pipes composed of cast iron or clay. Once accepted as standards in the past, these materials pose a risk to your plumbing if they are still in use today.
Aside from outdated piping, other causes of sewer line issues include tree roots growing into the line, a blockage or excessive buildup in the pipe, and damage from construction work.
Our experts will help you determine the best course of action with a thorough sewer camera inspection.
This initial look into your sewer line will give us a better understanding of the exact problem affecting your plumbing. We will be able to tell if your sewer line is suffering a leak, corrosion, blockage, or other damage. Once we have pinpointed the problem, we can recommend the right solution.
How to Know Whether You Have a Broken Water Line
Water line damage is serious. If not addressed, it can cause significant problems throughout the rest of your property. For that reason, you need to be aware of the warning signs of water line damage, as well as how to figure out whether you have a leak. Do you suspect something is wrong? Here's how to self-diagnose the problem:
Turn off all the water in your home and cease usage of all faucets and shower heads
Find your water meter and watch for dial movement. If the dial is still moving despite the lack of water usage, you have a leak, and if the dial moves quickly, the leak is severe.
Our experts will help you determine the best course of action with a broken water main leak.
Water line repairs often require our team to dig into your yard. We strive to perform our repairs and replacements with the utmost respect for your property. Our approach not only saves your property from permanent damage, but it also saves you money. To learn more about our water line repair services, give Gluff Plumbing a call and schedule an appointment.
We stock many common parts
We want your business for life
Accepting Credit Cards, Check & Cash
Gluff Plumbing proudly serves the following zip codes:
46157, 46158, 46151, 46113, 46125, 46151, 46157, 46111, 46166, 46125, 47456, 46184, 46106, 46124, 46131, 46142, 46143, 46160, 46162, 46164, 46181, 47448, 47435, 46103, 46112, 46118, 46121, 46123, 46122, 46149, 46158, 46165, 46168, 46167, 46180, 47463, 47426, 47464, 47468, 47429, 47433, 47434, 47436, 47402, 47401, 47404, 47403, 47406, 47458, 47405, 47408, 46298, 46107, 46113, 46183, 46202, 46201, 46204, 46203, 46206, 46205, 46208, 46211, 46209, 46216, 46214, 46218, 46217, 46220, 46219, 46222, 46221, 46224, 46226, 46225, 46228, 46227, 46229, 46234, 46231, 46236, 46262, 46235, 46239, 46237, 46241, 46240, 46242, 46249, 46250, 46254, 46256, 46255, 46260, 46259, 46268, 46274, 46278, 46277, 46285, 47431, 47455, 47460, 46105, 46120, 46121, 46128, 46135, 46170, 46171, 46172, 46175,  46030, 46031, 46032, 46033, 46034, 46037, 46038, 46040, 46055, 46060, 46062, 46064, 46069, 46074, 46077, 46240, 46250, 46256, 46260, 46268, 46280, 46290