All staff are very professional and hard working. We had several issues arise and Gluff plumbing addressed each one staying late to fix them. They went above and beyond what was expected. I would highly recommend them for any plumbing job.
We never hesitate to call Caleb at Gluff Plumbing for any plumbing issue we are having. He explains the problem and solutions in a very easy to understand way. We got to meet Matt today and he did not disappoint! He was professional, courteous and did a great job! Thank you to Norm as well for saving the day with a part. They are a great local business and we highly recommend using them for any plumbing project, big or small.
I had a large project, and I met with Caleb to discuss and plan the project. I met with many plumbers, and his knowledge and price was much better than the other guys. If you are looking for a plumber that will do great work and be responsive and honest, definitely go with these guys!
What a relief to find a reliable, professional plumbing company that's located close by. Affordable, and courteous.
Matthew took care of us this week and last regarding an old water heater. He was positive and professional every step of the way! Matthew was a great representative of the company and left us as happy customers. Thank you, Matthew!
We had an issue and Gluff plumbing took care of us right away. Friendly, honest, affordable, and just all around great guys! These guys really go above and beyond to take care of their customers. We have found our plumber for life! Thank you for such wonderful service!!
Excellent service! Our plumber Matthew was professional, knowledgeable and did a great job. I would highly recommend Matthew and Gluff plumbing. We will call them again for our next plumbing fix.
Terrific service, knowledgeable technicians who will fix the issue correctly, promptly and for the best price. Also the receptionist/dispatcher Alisha is amazing at her job! She's helpful, efficient and knowledgeable about the work the techs in the field are doing. Highly recommend this company!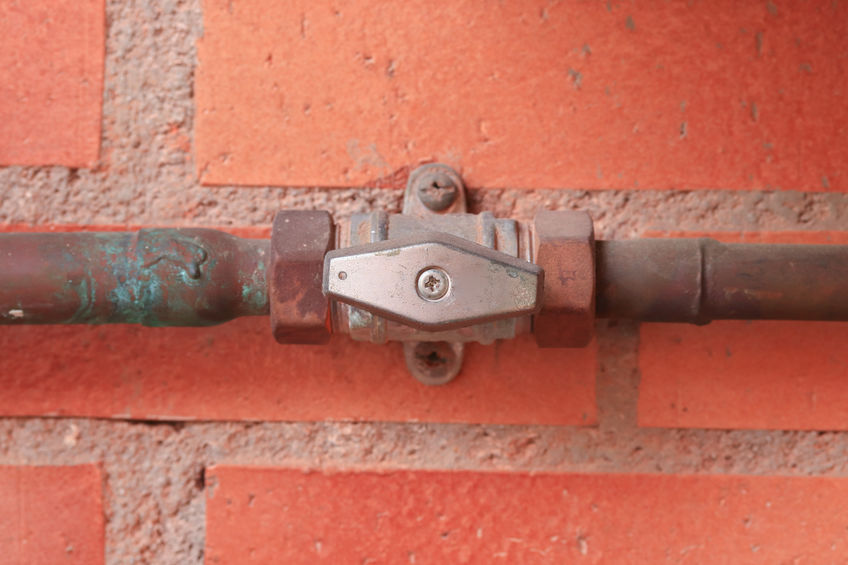 Gas Line Installation and Repair in Monrovia, Martinsville, Mooresville, Bloomington, Camby, Eminence, Indianapolis or surrounding area.
Whether you're looking to add a new gas line to your property or you need to replace an existing line, we will make sure your gas pipe installation project is completed safely and accurately. Our certified gas piping professionals will go over the scope of work involved and ensure a smooth process. We will keep you updated every step of the way to help you avoid surprises.
What Can Cause a Gas Leak?
Gas leaks can be caused by any the following:
Poorly installed gas fittings: If the wrong gas line fittings are used on a pipe, gas can leak through gaps in the threading or in the space between the fitting and the pipe. Professional installation is the best way to avoid installing a gas line incorrectly by using the wrong parts.
Faulty appliances: Furnaces, water heaters, boilers and other gas appliances absolutely must receive regular maintenance from a qualified technician. Gas leaks and carbon monoxide poisoning are a danger in any home that is not inspected by a professional.
Corrosion on gas fittings: Buried gas lines can be prone to corrosion. As gas pipes age, they should be inspected to ensure corrosion is not increasing the chances of a leak.
Lack of maintenance and inspections: Sometimes damage happens to gas pipes or gas appliances in the routine of everyday life. Routine maintenance and inspections are a line of defense against gas leaks when these kinds of problems happen.
Gas line leaks or other problems are not just minor repair jobs or quick fixes — they represent emergencies that must be dealt with by trained specialists right away. Even a small error could have disastrous consequences. It is crucial to work with a trustworthy and professional company like Gluff Plumbing when it comes to the gas lines in your home or commercial property.
For reliable gas line repair and installation choose the team at Gluff Plumbing. Our licensed plumbers are committing to handling gas line problems efficiently and thoroughly. You can trust us to get the job done right the first time.
We stock many common parts
We want your business for life
Accepting Credit Cards, Check & Cash
Gluff Plumbing proudly serves the following zip codes:
46157, 46158, 46151, 46113, 46125, 46151, 46157, 46111, 46166, 46125, 47456, 46184, 46106, 46124, 46131, 46142, 46143, 46160, 46162, 46164, 46181, 47448, 47435, 46103, 46112, 46118, 46121, 46123, 46122, 46149, 46158, 46165, 46168, 46167, 46180, 47463, 47426, 47464, 47468, 47429, 47433, 47434, 47436, 47402, 47401, 47404, 47403, 47406, 47458, 47405, 47408, 46298, 46107, 46113, 46183, 46202, 46201, 46204, 46203, 46206, 46205, 46208, 46211, 46209, 46216, 46214, 46218, 46217, 46220, 46219, 46222, 46221, 46224, 46226, 46225, 46228, 46227, 46229, 46234, 46231, 46236, 46262, 46235, 46239, 46237, 46241, 46240, 46242, 46249, 46250, 46254, 46256, 46255, 46260, 46259, 46268, 46274, 46278, 46277, 46285, 47431, 47455, 47460, 46105, 46120, 46121, 46128, 46135, 46170, 46171, 46172, 46175,  46030, 46031, 46032, 46033, 46034, 46037, 46038, 46040, 46055, 46060, 46062, 46064, 46069, 46074, 46077, 46240, 46250, 46256, 46260, 46268, 46280, 46290