All staff are very professional and hard working. We had several issues arise and Gluff plumbing addressed each one staying late to fix them. They went above and beyond what was expected. I would highly recommend them for any plumbing job.
We never hesitate to call Caleb at Gluff Plumbing for any plumbing issue we are having. He explains the problem and solutions in a very easy to understand way. We got to meet Matt today and he did not disappoint! He was professional, courteous and did a great job! Thank you to Norm as well for saving the day with a part. They are a great local business and we highly recommend using them for any plumbing project, big or small.
I had a large project, and I met with Caleb to discuss and plan the project. I met with many plumbers, and his knowledge and price was much better than the other guys. If you are looking for a plumber that will do great work and be responsive and honest, definitely go with these guys!
What a relief to find a reliable, professional plumbing company that's located close by. Affordable, and courteous.
Matthew took care of us this week and last regarding an old water heater. He was positive and professional every step of the way! Matthew was a great representative of the company and left us as happy customers. Thank you, Matthew!
We had an issue and Gluff plumbing took care of us right away. Friendly, honest, affordable, and just all around great guys! These guys really go above and beyond to take care of their customers. We have found our plumber for life! Thank you for such wonderful service!!
Excellent service! Our plumber Matthew was professional, knowledgeable and did a great job. I would highly recommend Matthew and Gluff plumbing. We will call them again for our next plumbing fix.
Terrific service, knowledgeable technicians who will fix the issue correctly, promptly and for the best price. Also the receptionist/dispatcher Alisha is amazing at her job! She's helpful, efficient and knowledgeable about the work the techs in the field are doing. Highly recommend this company!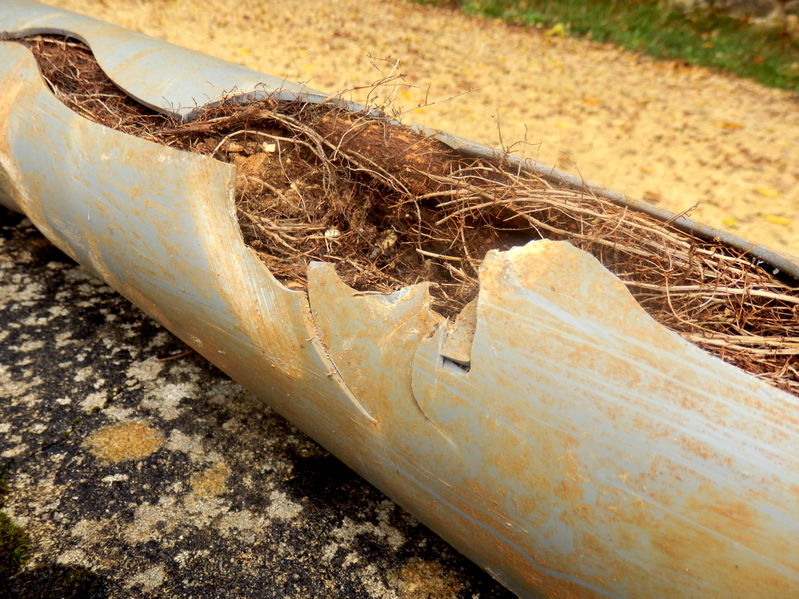 Need tree root removal services in Monrovia, Martinsville, Mooresville, Bloomington, Camby, Eminence, Indianapolis or surrounding area.
Have all of the drains in your home started to drain slowly? Maybe you've even noticed some water backing up in your toilets. Chances are, you're dealing with a clogged main sewer line. Many times, the clog is caused by tree roots growing into main pipe that leads from your home to the public sewer system. As living things do when the weather gets warmer, they grow. When trees grow, their roots penetrate farther into the earth. As they grow, they may grow through anything that is in their way that has been buried underground like your sewer pipe.
Tree Root Removal Services
Gluff Plumbing specializes in tree root removal! We can get rid of those pesky tree roots.  Tree roots can damage septic tanks and drain fields. Waste water is rich in plant nutrients such as phosphorus and that acts as a magnet to tree and shrub roots. Clogged drain pipes, leaking, or even cracked septic tanks due to tree roots is fairly common and no doubt causes a headache for property owners.
We stock many common parts
We want your business for life
Accepting Credit Cards, Check & Cash
Gluff Plumbing proudly serves the following zip codes:
46157, 46158, 46151, 46113, 46125, 46151, 46157, 46111, 46166, 46125, 47456, 46184, 46106, 46124, 46131, 46142, 46143, 46160, 46162, 46164, 46181, 47448, 47435, 46103, 46112, 46118, 46121, 46123, 46122, 46149, 46158, 46165, 46168, 46167, 46180, 47463, 47426, 47464, 47468, 47429, 47433, 47434, 47436, 47402, 47401, 47404, 47403, 47406, 47458, 47405, 47408, 46298, 46107, 46113, 46183, 46202, 46201, 46204, 46203, 46206, 46205, 46208, 46211, 46209, 46216, 46214, 46218, 46217, 46220, 46219, 46222, 46221, 46224, 46226, 46225, 46228, 46227, 46229, 46234, 46231, 46236, 46262, 46235, 46239, 46237, 46241, 46240, 46242, 46249, 46250, 46254, 46256, 46255, 46260, 46259, 46268, 46274, 46278, 46277, 46285, 47431, 47455, 47460, 46105, 46120, 46121, 46128, 46135, 46170, 46171, 46172, 46175,  46030, 46031, 46032, 46033, 46034, 46037, 46038, 46040, 46055, 46060, 46062, 46064, 46069, 46074, 46077, 46240, 46250, 46256, 46260, 46268, 46280, 46290